Unpacking the Value of Advice: MoneyOwl's Exit and The Heritage Partnership's Traditional Financial Advisors
---
As MoneyOwl prepares to exit the Singapore market in December 2023, the landscape of financial advising is set for another significant shift. While MoneyOwl offered a compelling, low-cost alternative, traditional financial advisors at firms like The Heritage Partnership continue to provide personalised, human-centric services. Both aim to assist individuals in achieving financial growth and fulfilling their monetary aspirations, but they differ significantly in several key areas.
Understanding the distinctions between MoneyOwl and traditional financial advisors
With MoneyOwl leaving the Singapore market, understanding the differences between their service and traditional financial advisors like us at The Heritage Partnership becomes even more crucial. This knowledge will equip you with the essential information to make informed decisions about your financial future, especially when aligning with your unique preferences, needs, and financial goals.
Imagine you're hungry and looking for a meal. You have two options: fast food or fine dining. Using a bionic financial adviser is like opting for fast food. It's quick, convenient, and cost-effective. You walk into a fast-food restaurant, choose from a limited menu, place your order at the counter, and receive your meal within minutes. The food is consistent and serves its purpose, but it may lack the personalised touch and gourmet experience you'd get at a fine dining restaurant.
Working with a Traditional Financial Advisor is akin to fine dining. When you go to a fine dining restaurant, you're greeted by a skilled chef (the advisor) who takes the time to understand your preferences, dietary restrictions, and desired culinary experience (financial goals). The chef crafts a customised, multi-course meal (financial plan) that delights your senses and caters to your unique tastes. You receive attentive service, wine pairings (investment strategies), and the opportunity to ask questions about the menu (financial advice).
The Spectrum of Service Models
In the absence of MoneyOwl, you may be considering other financial advising options. The Heritage Partnership offers a spectrum of service models that provide personalised financial planning and investment advice tailored to an individual's unique goals, risk tolerance, and financial situation.
If you are looking for an advisor to shed light on the strengths and weaknesses in your finances, it's important to consider aspects that encompass cost-effectiveness, accessibility, the level of personalisation, and the intrinsic human touch. Understanding the different service models of advisors available will give you a better idea.
As shown in the spectrum, an advisor provides personalised financial planning and investment advice tailored to an individual's unique goals, risk tolerance, and financial situation. They offer a human touch that can be especially valuable during life events or market turbulence when emotions can run high. The relationship between a client and a traditional advisor can also be built on trust and long-term collaboration, just like having your own personal CFO.
What about other robo-advisors?
MoneyOwl aside, other robo-advisors such as Endowus, Stashaway, Syfe and Autowealth are offering even less of a service-based approach and are purely focused on Investment/Portfolio planning. How much you plan to retire with and how much would you like to save for your children's education or other more personalized aspirations like tax savings and leaving a legacy are typically not even considered when an investment portfolio is recommended to you. Robo-advisors are typically based on a sales-centric model where the focus remains on Assets Under Management (AUM) gathering, rather than a client-centric model where individuality of each client is taken into consideration before any recommendation is made.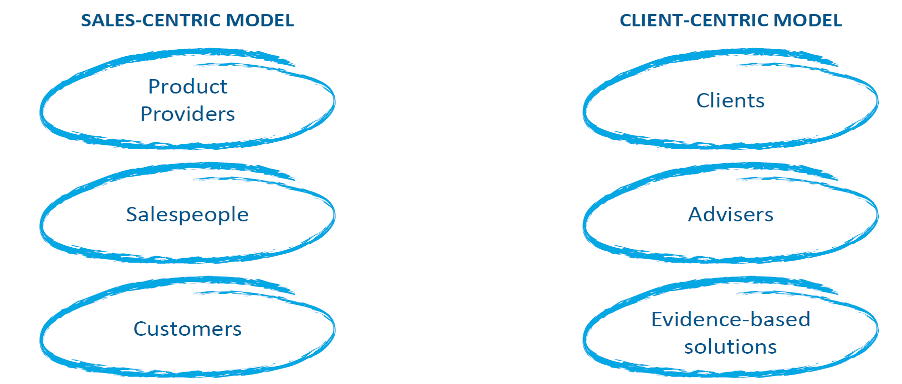 Measuring Value in a Post-MoneyOwl Landscape
How do you primarily measure the value you receive from your advisor? With MoneyOwl exiting the market, the focus may shift more towards the holistic approach offered by The Heritage Partnership, giving meaning to your money, whether it's for your children, spouse, or life goals. The value you receive will shift from mere numbers to what it can do for your life.
The value you receive from an advisor will start to shift away from numbers to data to what it can do for your life and ultimately get you to a better spot.
Below are some of the important values you should be receiving from engaging with a financial advisor over the long term. However, if your preferred advisor is a bionic financial adviser, some values such as providing a sense of security/peace of mind and having in-depth knowledge of your personal financial situation to give more tailored advice will not be available.
Important Values to Consider
If you were considering an advisor like MoneyOwl, it's important to note that some values such as a sense of security, peace of mind, and tailored advice based on in-depth knowledge of your personal financial situation may not be available through a bionic financial adviser.
Making the Choice in a Changing Market
Choosing between bionic financial adviser and traditional financial advisors depends on your individual preferences, financial goals, and the level of service you require. Bionic financial advisers are typically more cost-effective, accessible, and suitable for investors who prefer a more hands-off approach. Traditional financial advisors offer a personalised, human touch with expertise that can be valuable in complex situations. Some investors even choose a hybrid approach, combining both bionic financial advisers for cost-effective portfolio management and traditional advisors for comprehensive financial planning.
Aligning with Your Financial Objectives
Ultimately, your choice should align with your financial objectives and comfort level with technology. At The Heritage Partnership, we value 'real' financial advice, advice that is closely intertwined with your current lifestyle and future needs and goals. During critical times, we believe the combination of empathy and expertise is everything. Clients' concerns should be acknowledged before any advice or counsel is given. We want them to talk about how the current environment is affecting them personally and understand their current financial needs, values, and goals. Focusing on long-term objectives certainly helps raise the conversation above the daily market volatility and direct us to advise clients on what they can control.